(1.) FILM ROBOTS EXHIBITION – MARVIN
A robot servingas a spacecraft crew, originally bult as one of many unsuccessful prototypes of GPP (Genuine People Personalities) technology. Marvin suffers from severe depression and boredom. He has enormous intellectual potential and claims to be 50,000 times more intelligent than humans
FRACTION: Intergalactic traveler
RANK: Crewman
SIZE: 140 cm tall
ARMAMENTS: Super fast operating memory
WEIGHT: 115 kg
(2.) FILM ROBOTS EXHIBITION – ATOM
A huge boxing machine that, after being damaged, ends up in a garbage dump, found by one of the heroes of the film, has a chance to fight for primacy in the world of boxing steel machines
FRACTION: Tin Boxer
RANK: Humnoid boxer robot
SIZE: 320 cm tall
WEAPON: Steel Fists
WEIGHT: 450 kg
(3.) FILM ROBOTS EXHIBITION – IRON MAN
Mark II – the second iron man costume. It is a heavily modified Mark I model. Its appearance has been charged, a link to the Stark home computer – Jarvis has been added. The costume is able to fly and only 3 % of the power is enough for its operation
FRACTION: Cyborg
RANK: Policeman soldier
SIZE: 220 cm tall
SKILLS: Fighting terrorism, defending humanity against threats
WEAPON: Weapons in the form of impulses generated by flight stabilizers on the hands are gray in color. Its weakness is a thin coating which becomes iced after exceeding 12 km
WEIGHT: 400 kg
(4.) FILM ROBOTS EXHIBITION – THE GUARD
Cuttlefish – machines found in a world controlled by artificial intelligence, shape resembling octopus. They did not have artifical intelligence, they patrolled the area of the planet. After receiving a beep from the enemy unit, they immediately headed for the place after sending the signal to other guards and agents of the system
WEAPON: Highly sensitive sonic sensors and a small laser cannon capable of cutting through the amored hull of human surface ships. Precious tentacles capable of tearing apart enemy units
WEIGHT: 330 kg
(5.) FILM ROBOTS EXHIBITION – SONNY
The humanoid machine of the NS 5 type, which is considered a perfect robot.
SKILLS: universal, created for all tasks previously performed by people
WEAPONS: Designed to handle all types of weapons, both old and laser ballsters
WEIGHT: 200 kg
(6.) FILM ROBOTS EXHIBITION – ENDOSKELETON T-800
The first model of a humanoid machine to replace people on the battlefield. He can fight in hand-to-hand combat, use almost all types of weapons and also operate means of transport.
It does not have an integrated arsenal and the ability to manipulate the organic coating, it can change clothes and knows its use, can speak with the voice of any person he hears.
FRACTION: Cyborg
RANK: Killer soldier
SIZE: 200 cm tall
SKILLS: A nuclear-powered bulletproof endoskeleton. Covered with organic tissue, it resembles a human
WEAPON: supports all types of weapons and combat machines
WEIGHT: 140 kg
(7.) FILM ROBOTS EXHIBITION – BUMBLEBEE
Yellow robot transforming into a yellow Chevrolet Camaro – actively participates in the fight on the side of mankind. In the team, he performs the functions of scouts. Nice friendly and devoted companions.
FRACTION: Autobots
RANK: Scout
SIZE: 275 cm tall
ALL-MODE: Chevrolet Camaro
WEAPON: plasma cannon
WEIGHT: 480 kg
(8.) FILM ROBOTS EXHIBITION – IRON FIST
The gray robot comes to Earth with the Autobots as a weapon specialist. He is still hungry for battle, although he is faithfully devoted to the Autobots.
FRACTION: Autobots
RANK: Weapons specialist
SIZE: 230 cm tall
ALL-MODE: Chevrolet GMC TopKick C4500
WEAPON: Rotary projectile launcher, small cannon power cannon
WEIGHT: 530 kg
(9.) FILM ROBOTS EXHIBITON – MEGATRON
The villain of the Transformers movie is the leader of the Decepticons. He is heartless and ruthless in his pursuit of power over the world. In the film versions, it turns into a super tank and a super jet plane.
FRACTION: Decepticons
RANK: The leader
SIZE: 318 cm tall
ALT-MODE: Jet, Tank, Racer
WEAPON: Powerful rocket guns, Foggy regeneration
WEIGHT: 430 kg
(10. + 11. + 12.) FILM ROBOTS EXHIBITION – COMBAT DROID, C-3PO, R2-D2
10. FILM ROBOTS EXHIBITION – COMBAT DROID
The basic combat unit of the Trade Space Faction. The motor skills of the droid do not differ significantly from most humanoids, manipulators allowed to operate most of the weapons designed for humans.
FRACTION: Humanoid remotely controlled combat robot
RANK: Universal – multitasking
SIZE: 250 cm tall
SKILLS: They operate as pilots, bodyguards, commanders and regular line infantry. They operate in the depths of the oceans and on the surface of the planets
WEAPONS: proton rifle, sniper rifle, rocket launchers. Built-in speacial power backpack.
WEIGHT: 100 kg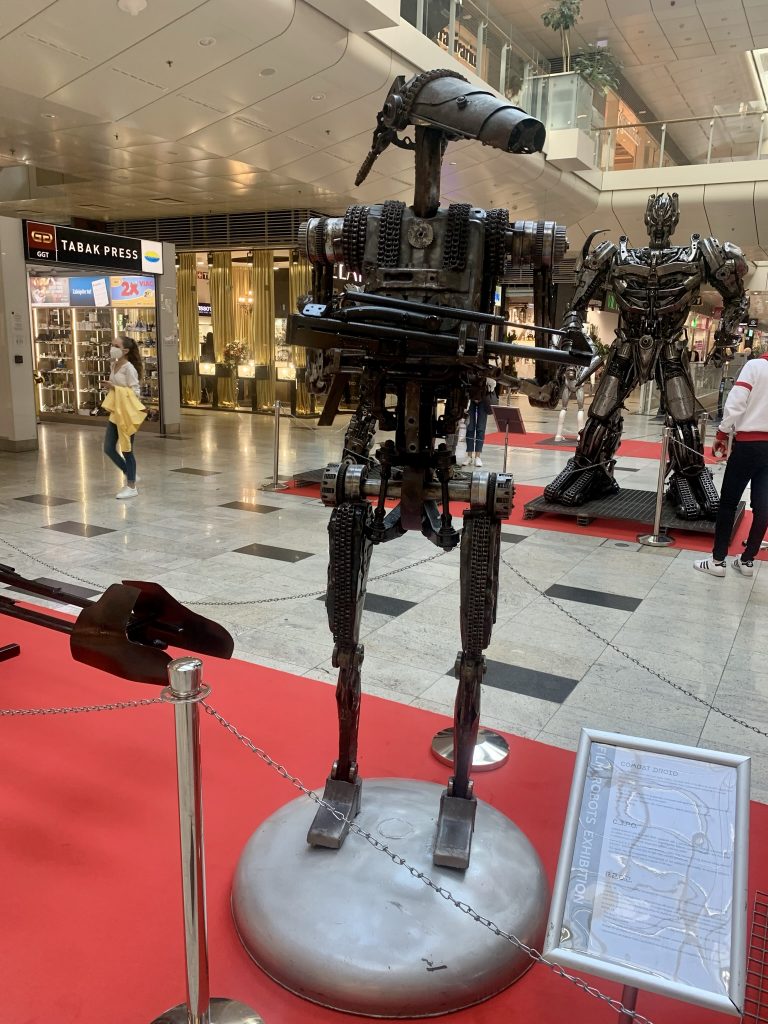 11. FILM ROBOTS EXHIBITION – C-3PO
Android protocol with a golden shell, equipped with a cummunication module containing over six milion forms of communication in long-forgotten dialects, commercial terms, and the ability to communicate with robots, diagnostic readers, security codes
During its long operation, it belonged to many owners. Only one case of his memory being deleted is known – both before and after he had many colorful adventures.
The result was an exaggerated development of the android´s personality, he became talkative and often panicked which was not typical of his type.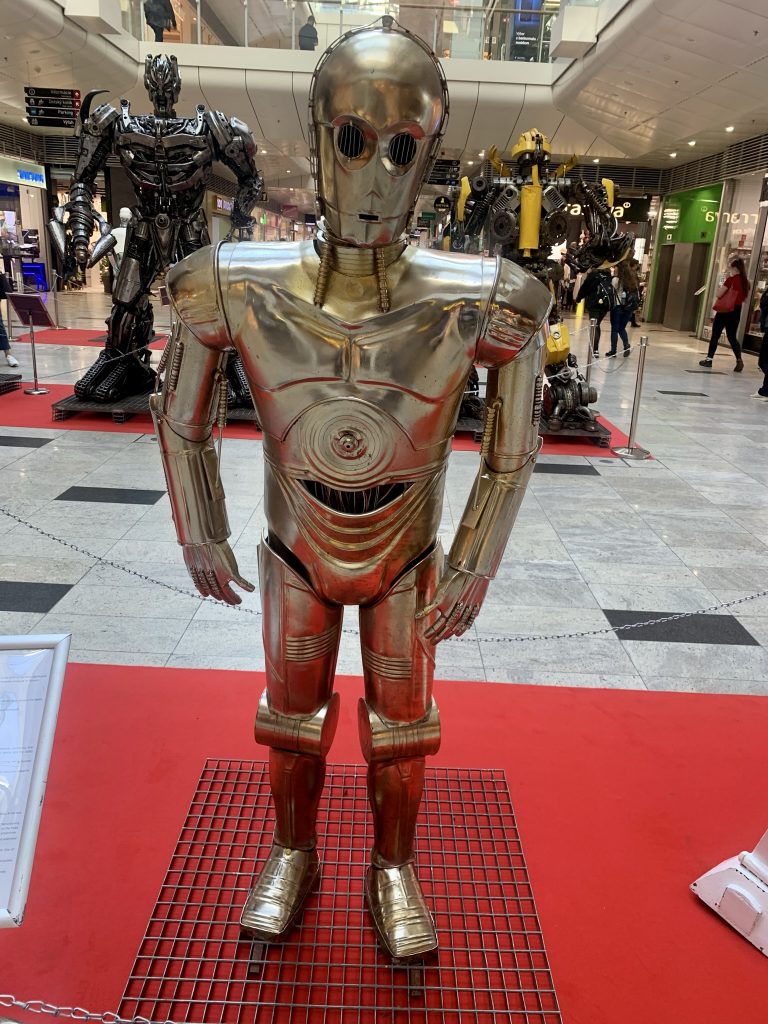 12. FILM ROBOTS EXHIBITON – R2-D2
A mechanical astro android that was present at the greatest events in the history of the galaxy. Artoo was 109 cm tall.
It consisted of a metal body supported by two dogs with tracks, and a third retractable one. It had a moving head that rotated on an oval ring. The main optical receptor and the radar eye were placed on the head. Addictional equipment was a holographic projector, thanks to which Artoo could play holgram projections.
On the body, apart from cooling fans and the loudspeaker, there where various types of arms and additional devices, e.g. :
The grapple arm allowed Artoo to manipulate objects and, during spaceflight, to repair the ship on which it was installed.
The power supply arm allowed R2D2 to charge the power systems of dead machines and send pulses through the damaged circuits for diagnotic tests
Leg-mounted Jet engines made it possible to move both in space and above the surface of planets
13. FILM ROBOTS EXHIBITON – WALL-E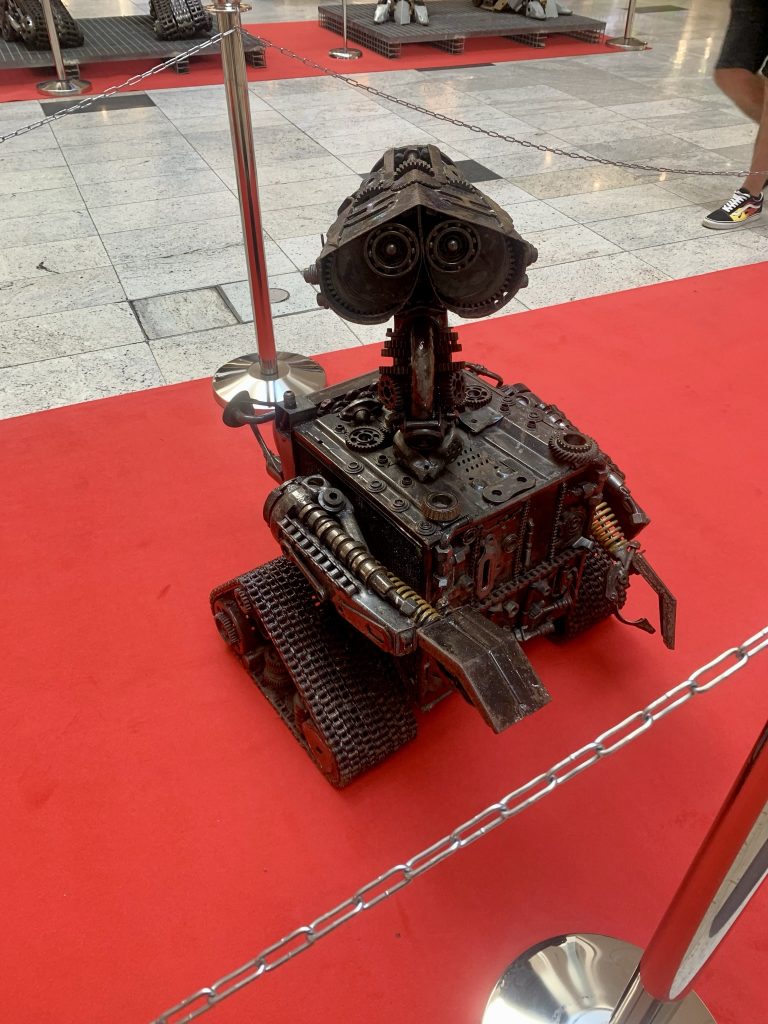 FILM ROBOTS EXHIBITON